Healthier Lawn Care Solutions
Lawn Care Services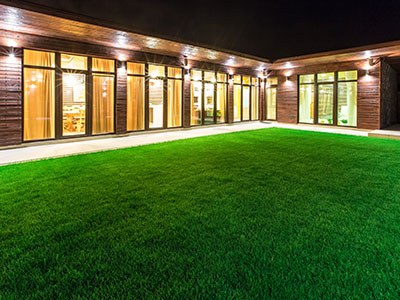 If you are looking for high-grade organic fertilizer and lawn renovation solutions for your landscape, we are the company that can help. Integrated Turf Science has been a leader in this industry for many years. Our team of experts has the skills, expertise, and in-depth knowledge needed to provide all-round landscape soil testing and garden fertilization solutions.
We offer comprehensive solutions tailored to our client's needs, so you always get value for money when you hire our services. Our team has experts with vast experience in the industry, and they will work with you to make sure that the services we provide meet the needs of your landscape. The variety of solutions we offer include:
Organic Base Lawn Care
When it comes to maintaining the health and appearance of your grass, it is necessary to ensure that you opt for the right quality products and services. We are the experts that offer organic-based fertilizer solutions and lawn care plans. Our team is highly skilled, and we assess the soil as well as the grass before providing various solutions. We use many different fertilizer products in our work, and our team will ensure that the ones we choose are best suited for the type of grass on your property. We also carry out soil testing before determining what quantity of fertilizers need to be applied to the soil, ensuring the health and longevity of your turf. Read More About Organic Based Fertilizer >>
Organic Base Landscape Care
Weeds can cause a significant amount of damage to your turf. One of the best ways to ensure that these wild plantings do not affect the grass on your lawns is to get regular weed control done. Not only do we handle the removal of weeds but also apply pre-emergent and post-emergent weed control applications. Our team of experts knows how to treat different types of weeds and will make sure that the products used are useful and help eliminate the weeds from your property satisfactorily. Weed growth typically needs multiple applications at different times of the year, and we can handle these skillfully. We make sure that the products used do not harm your grass in any way. Read More About Weed Control >>
Organic Base Pest Solutions
Insects and grubs can cause significant havoc on your lawn. Not only do they burrow into the soil, but they also begin to eat the grass blades affecting the turf's health and quality. This is where our grub and insect control solutions come into the picture. We always tailor our services and make sure that your grass is well-protected from these pests. We understand that different properties may have different types of grasses, so we always adopt a customized approach to our work. Since we are the lawn care specialists, we conduct proper soil testing before we apply grub and insect control solutions. Read More About Grub and Insect Control >>
We are committed to offering our clients the best lawn renovation, aeration, and organic fertilization solutions. Our company always uses the best products and materials and focuses on organic lawn care methods. For any additional information about these services or lawn care costs, feel free to contact Integrated Turf Science at 484-764-7175. You can also send us your project requirements and queries via this Contact Us form, and one of our experts will contact you within a short time.
We Provide Services to the Following Cities and Towns in PA